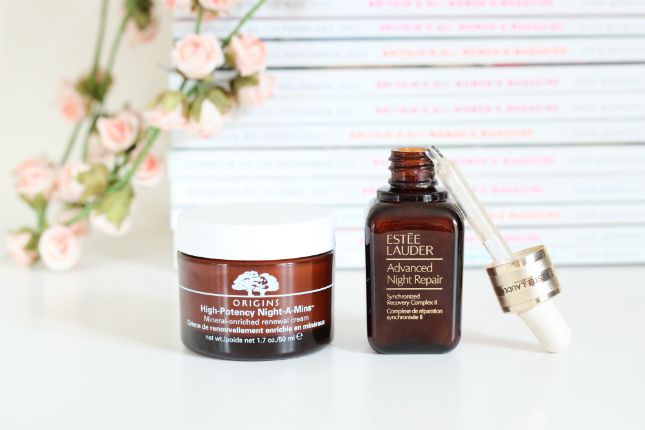 I reviewed the Origins night-a-mins oil free version a while ago and although I loved it, I felt like I could use a little more moisture and so when I ran out I opted for the normal version - Origins high potency Night a mins. This is completely different in texture than the oil free version - a thick cream rather than a gel type consistency. I noted in my earlier review that Night a mins broke some people out and so it was best to try and get a tester first to check that it works well with your skin. As the oil free version worked really well with my skin (it helped to fade acne scarring and made my skin feel radiant and smooth) I thought I would be fine to just move on to this version, but unfortunately it broke me out.
I've tried this on and off since last November but just couldn't get it to work for me, until I paired it with the Estee Lauder Advanced Night Repair Synchronized Recovery Complex II.
They seem to compliment each other so well. Together they make my skin glow, reduce acne scarring, pigmentation and leave my skin really renewed and moisturised. And, no breakouts! I had previously tried just using the Estee Lauder Advanced Night Repair Syncronized Recovery Complex II serum on its own and although it feels lovely on the skin and it may help with long term use, I can't say that I noticed much of a difference in my skin after using it for a couple of months. I'm so glad I discovered this paring as both products alone seemed to be quite a disappointment to me, I've been using this combination every night for a few months now - by first applying the serum and then the moisturiser and my skin has never felt or looked better!
Have you tried either of these products?