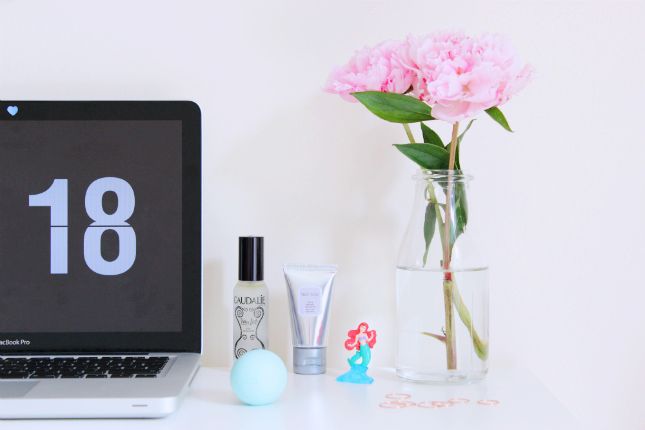 Here are a few things that are currently on my desk. I like to try keep my workspace neat, clean and clutter free, but I always like to add some little things that make me smile during the day too!
1. Caudalie Beauty Exlir - This is so perfect to use in the heat. It contains organic balm mint, rosemary, grape, rose and orange blossom to smooth the skin and give a burst of radiance. You only need a few spritzes to leave you skin feeling cool and refreshed!
2. Hand cream: My hands are always dry and so I always keep a hand or body lotion nearby. I love this Laura Mercier fresh fig body butter mini, it has a rich scent of figs, apricot nectar and ylang ylang. I really need to get the full sized fresh fig hand cream as this smells so good and keeps my hands feeling hydrated and moisturised.
3. EOS lip balm in sweet mint: This little minty organic lip balm is fresh and moisturising which has been perfect this summer. It helps to keep my lips supple and smooth.
4. Decorative Objects - I've been loving having Ariel on my desk. I've always loved Disney princesses, there's something quite summery about her and she really brightens up my desk! I also try to keep fresh flowers on my desk as they really brighten up the home and make me happy. I always feel so inspired with fresh flowers around and I've been buying peonies non stop this summer to put in my little ikea milk bottle vase.
- I also always have a notebook, pen and a big glass of water on my desk!
What are your summer desk essentials?