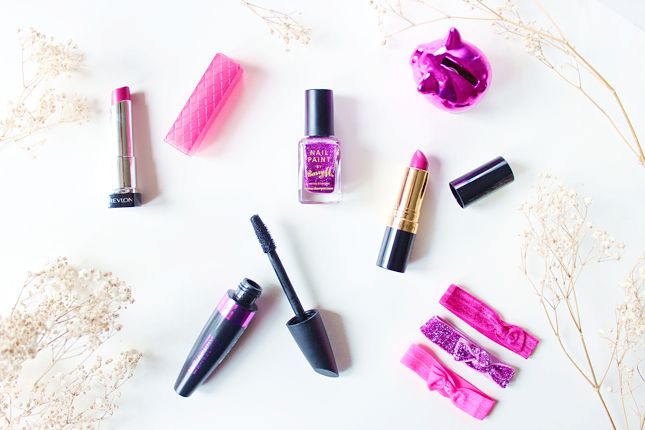 I think that fuchsia is a great transitional colour from summer to autumn as although it has a bright pink summery feel to it, the purple tones hint at autumn making it great to wear at this time of the year. These are my August fuchsia favourites:
Revlon lip butter in lollipop: This is one of the most opaque lip butters that I own and such a pretty, bright fuchsia pink. I love wearing this as a really bold lip or for daytime wear I like to dab a small amount on my lips and rub it in to make a pretty stain.
Barry M Glitter Nail paint in Magneta: This is a lovely, girly fuchsia pink. I love wearing this colour on my toes so whenever I look down, my glittery/sparkly nails make me smile!
Revlon Wild Orchid: This is such a pretty lipstick. A fuchsia pink with a slightly purple/blue sheen it's very similar to MAC show orchid for half the price. I've been wearing this lipstick a lot, especially towards the end of August and It looks great with a high pony or messy side braid.
Hair ties: These last so much longer on me than regular hair bands, are less damaging and look so pretty in your hair or on your wrist! I got these fuchsia ones from H&M and I've got my eye on this set from forever 21 next!
Maxfactor False lash effect 24hr Mascara: This is an old favourite for me, it really seems to coat every lash well giving me great definition, volume and length, I haven't actually tested whether it lasts the full 24hrs but it certainly lasts the whole day on me!
(I also love my little fuchsia pink mini piggy bank from tiger!)
JULYS CORAL FAVOURITES/JUNES GREEN FAVOURITES/MAYS GOLD FAVOURITES/
APRILS BLUE FAVOURITES/
MARCH MINT FAVOURITES/
FEBRUARYS ORANGE FAVOURITES/
JANUARYS PINK FAVOURITES