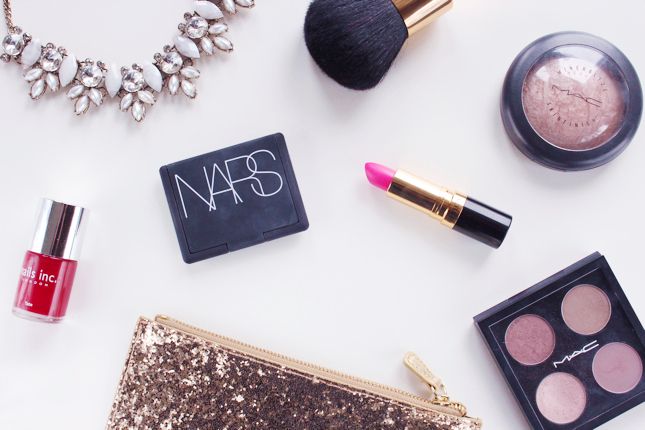 Me and Alex rarely go on date nights, instead if we want to spend time together then we normally put our jammies on, make some chocolate covered popcorn and watch films, play
lego games
on his
Xbox
the or bake! When we do go out on a date night I like to make a bit of an effort, using luxurious items and some of my favourite products:
For my nails I love wearing
Nails Inc Tate
as it's such a lovely dark cherry red, it gives a touch of sophistication and lasts well on my nails.
For blusher, I'm normally drawn to
Nars Orgasm
. Probably one of the most well known blushers in the blogosphere, it's such a pretty golden peachy pink that gives a lovely flush of colour to your cheeks.
My favourite lipstick at the moment is
Revlon Sultry Samba
which is a bright cool toned matte pink. I like to pat a small amount of this onto my lips and rub it in to make a stain so that it's long lasting and a bit more subtle on the lips.
For highlighter I love
MAC Soft & Gentle
, it's probably my all time favourite champagne highlighter. It gives such a beautiful glow and you only need a small amount brushed on the top of your cheekbones and on the brow bone to really make your skin look luminous and glowing.
I always reach for
MAC eyeshadows
to wear on evenings out and I love to use my
MAC Quad
when I want to create a subtle date night look. I use Naked Lunch all over the eyelid and then Sable blended into the outer corner and under the eye to give a subtle smokey eye. The plum pearl in sable really helps to bring out the brown in my eyes whilst Naked lunch (a pretty champagne pink) really helps to brighten and open my eyes.
I then add some winged liner, my
accessorize
statement necklace and I'm ready to go!
What are your favourite date night products?