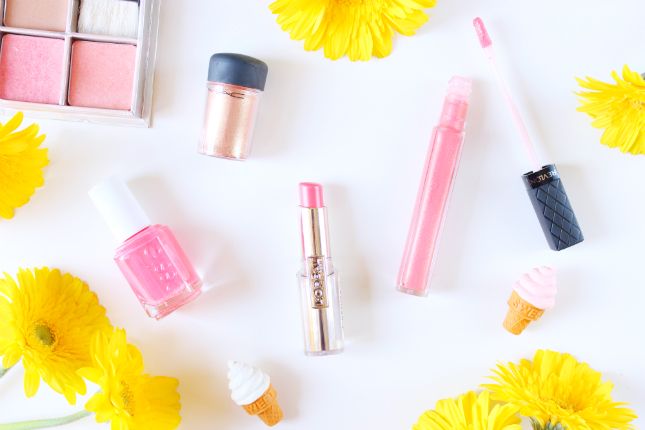 Following the colour theme, these are my summery coral favourites!
Essie Cute As A Button: This is such a pretty coral pink nail polish and one of my all time favourites from Essie.
Benefit Coralista: I only own the small version of this in the Powda Wowza box but I love it. Coralista is a warm peach pink coral that gives a lovely summery flush of colour to your cheeks. I love wearing this in the summer as really makes my skin look radiant and glowing, it can be built up to intensify the colour or worn as a pretty sheer hint of colour to your cheeks.
Mac Melon Pigment: This is actually a rose gold peach colour but it can look like a light coral on the eyes. It's a stunning colour and one of the prettiest eyeshadows that I own. It blends so easily and would suit any eye colour, you can see swatches of it under my lower lash line here and on my lids here.
Loreal Dating Coral: I remember buying this after hearing so much hype around this shade, its quite a natural peach pink that has a glossy finish, you can layer it up or just have a sheer wash of colour, both look really pretty on the lips.
Revlon colorburst lipgloss in Peony: This is a lovely peachy pink lipgloss that doesn't feel sticky on the lips and has a pretty golden shimmer running through it. Perfect for subtle glossy lips and great if you want to wear bright colours on your eyes!
JUNES GREEN FAVOURITES/MAYS GOLD FAVOURITES/
APRILS BLUE FAVOURITES/
MARCH MINT FAVOURITES/
FEBRUARYS ORANGE FAVOURITES/
JANUARYS PINK FAVOURITES