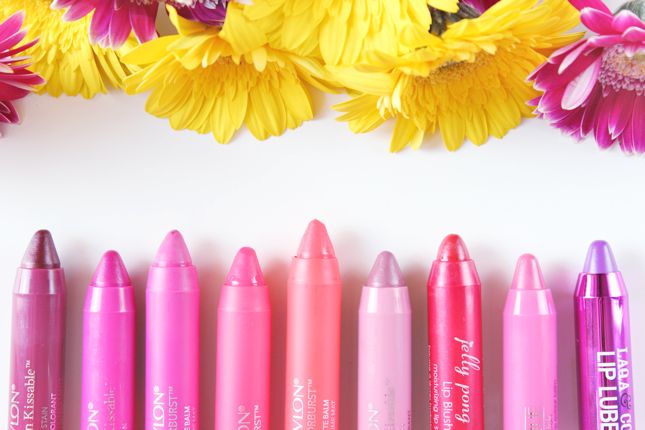 Lip crayons have been spreading through the brands and with so many to choose from, it's hard to know the difference between them. I love lip crayons, they are perfect for easy application, great to throw in your bag and normally theres a good amount of product in them. I've swatched lots of the lip crayons that are available in boots and superdrug and these are the ones that I own.
You can see from the above photo that the majority of the lip crayons that I own are from Revlon. I'm always impressed by Revlon lip formulations and If I had to choose my favourite highstreet lipstick brand it would be revlon!
I own three Revlon Just Bitten Kissable Balm stains and three colorburst matte balms, the lip stains are the ones I reach for the most as they are so long lasting on my lips, the colour selection is really pretty and they keep my lips feeling soft and subtle. I love that the Balm stains can be worn sheer or built up to be really pigmented. Both the stains and the matte balms have a light minty taste (which I'm not too fond of).
Jelly pong pong lip blush - Cranberry. This is my favourite everyday red and favourite lip crayon formulation that I own. The colour pay off is amazing, it's moisturising and long lasting on the lips. Jelly pong pong also make one other lip blush that looks lovely too, i'm hoping that they haven't discontinued this one as it's a staple in my make up bag.
Laqa and Co in Menatour - Another minty lip balm, I actually prefer this pepperminty smell slightly to the Revlon lip balms. I wouldn't normally brave a purple lip but this is quite a pretty colour and reminds me slightly of MAC Goddess of the Sea lipstick from the alluring aquatic collection.
Clinique Chubby Stick in Woppin Watermelon - I was going to buy this shade until I saw it free in glamour magazine last month. I'm pretty glad I didn't purchase the full size as the colour kind of gets lost on me. It's a really sheer subtle pink thats a bit too light for my lips. I think that it would be great if you wanted to look like you have naturally great lips as it really is very subtle. I might have to swatch a few more in store but at the moment I'm not too convinced.
What are your favourite Lip crayons?