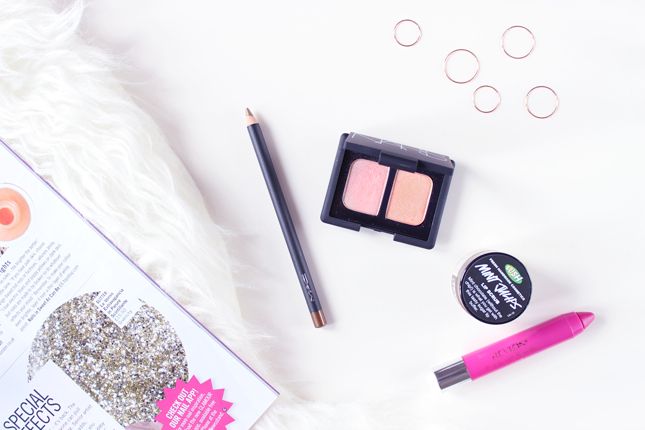 I love finding products that always deliver great results and make me feel good when I use them. I can always count on these products to work for me, whether it's to brighten up a gloomy day, soften my lips or brighten up my eyes!
MAC Eye Kohl in Powersurge: This golden, shimmery antique bronze eyeliner is perfect smudged under the lower lash line. It glides on so easily and really brings out your eyes. This really is a lovely eye pencil for everyday wear especially throughout autumn.
Nars Eyeshadow Duo in Alhambra: This rose, golden duo gives a beautiful sheen of colour to your eyes. It really brightens the eye area bringing light and a pretty glow. For a full review and swatches click here.
Lush Mint Julips lip scrub: The smell of mint chocolate and the promise of smooth lips makes me so excited to use this as the months get colder. This lovely little sugar scrub works so well at buffing away any dry patches on your lips leaving them soft and smooth.
Revlon Just Bitten Balm Stain in Lovesick: To brighten up a gloomy day, I always reach for Revlon Lovesick. This balm stain is a bright pink with a hint of purple that lasts ages on the lips, keeps them feeling moisturised and is so easy for quick application on the go.
What are your fail safe beauty products?