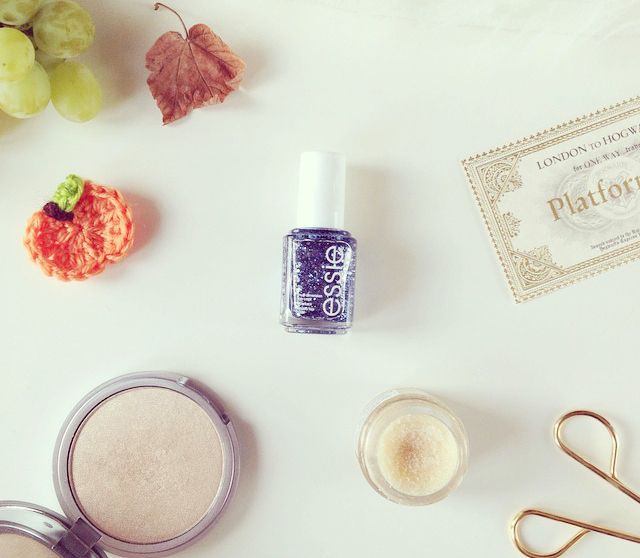 Monday: September the 1st - back to Hogwarts! Also crocheting these cute little pumpkin appliqués for a halloween garland, it takes me a while to make them so I'm starting early!
Tuesday: Make up saviours. My lips have already started to feel a little bit dry and so I've been really enjoying using my Lush Mint Julips lip scrub. theBalm Mary Lou Manizer dotted in the inner corner of my eyes has been helping me to look more awake, along with curled lashes thanks to my Shu Uemura eyelash curlers. Also as I mentioned in my last monthly favourites, looking down to glittering toes gives me an instant pick me up - Essie Stroke of Brilliance has been making me smile this week!
Wednesday: Cotton Candy Grapes. These sweet grapes taste so much like cotton candy/caramel it's unreal. They really are amazing, I ate a few of these whilst watching GBBO and it stopped me from scoffing half a pack of biscuits (which is my normal GBBO routine!).
Thursday: Watching one of my favourite films: I pulled on my favourite Pj's, filled a bowl with popcorn and laughed and cried whilst watching the Holiday.
Friday: Me and Alex are planning on wandering into town, passing horse chestnut trees (incase any conkers are ready) and browsing the bedding at Primark. I've seen some lovely Nordic brushed cotton ones on instagram that look just perfect for keeping snug on cold wintry nights.
What made you happy this week?