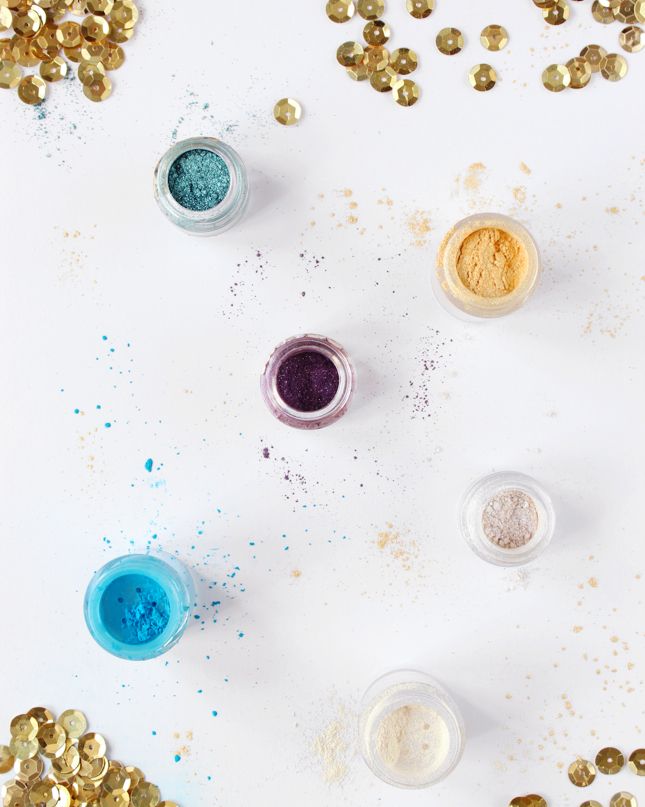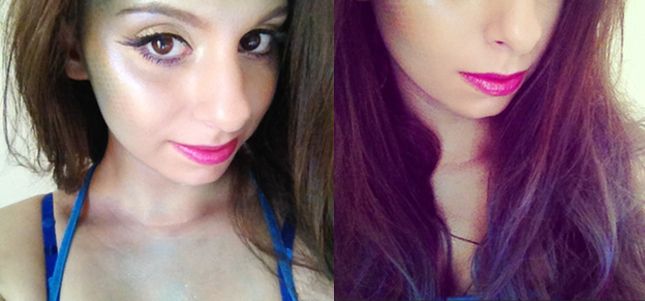 My 'I am Mermaid' make up post is probably my most viewed post on my blog. I created the look over three years ago now, I've always been unhappy with the way that the post looked and so I thought it was about time to revisit it! This is a really easy and effective way to create a halloween mermaid make up look, the photo's don't quite pick up how pretty it looks, it's so simple but looks like it could have taken hours! This time, I wanted the scales to blend in a little bit more and to look almost like skin whilst still having a pretty aquatic mermaid feel.
I kept my base make up pretty simple, foundation, a hint of pink blusher and Revlon Sweet Tart lip butter on the lips with a small amount of iridescent glitter dabbed in the centre.
For the scales - You can cut out a square of fishnet tights and then pin it into your hair and over the areas that you want to create the scales on but I find it so much quicker and easier to just pop the tights over your head and pin the back so that you can then just dab the pigments easily where you want the scales. Using a big powder brush I started with collection dazzle me eye dust in Spellbound and pressed and swept the pigment over the fishnets roughly where I would normally contour - the hollows of my cheeks and high on the temples, forehead and into the hairline. I then used Barry M dazzle dust in purple and overlapped the blue slightly and blended down onto my forehead and up onto my cheeks, I repeated this with Barry M Dazzle dust in Kingfisher, blending slightly onto the purple so that it created a fading/ombre effect. I then dusted a gold pigment - Collection Dazzle me dust in Bedazzle onto my cheekbones, the middle of my forehead and dusted any excess gold over the whole scales.
The thinner the fishnets, the more it blends into the skin and looks more realistic, in my previous attempt I used a thicker material fishnets, which gave a bolder look which still looked effective but less skin-like and realistic.
To finish the look I ran the purple pigment under my jaw and blended a mixture of the colours down my neck and onto my chest, adding more scales on the body and giving a blueish green aquatic effect to the skin. I also sprayed blue chalk spray through the ends of my hair and added Barry M Dazzle dust in iridescent (I can't find this online but Illamasqua Static is similar) on the top of my cheeks and under my brow bone.
What do you think of this halloween mermaid look?