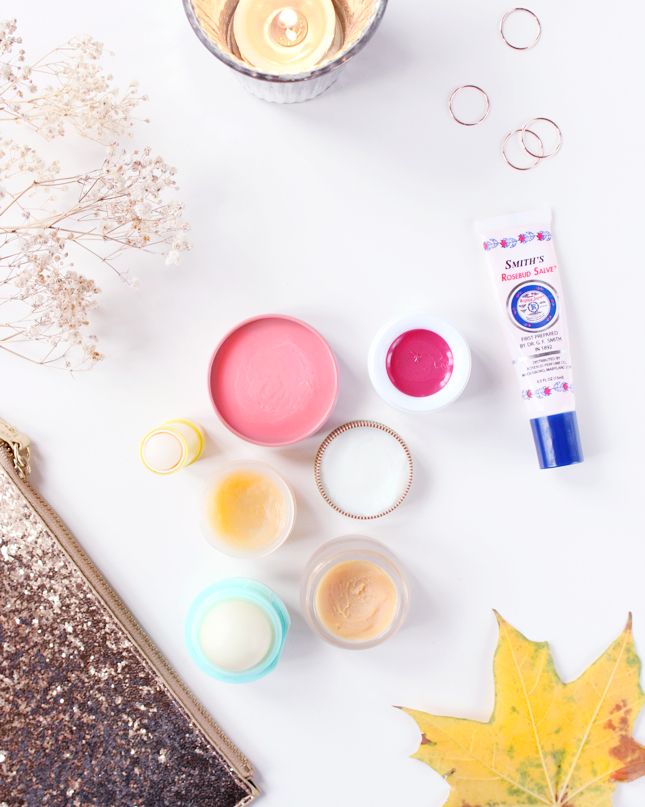 It's the time of year where I pull out my collection of lip balms and distribute them among the rooms in my home and into my make up bags. I'm a self confessed lip balm addict and I have quite a collection of them!
For a hint of colour I reach for either Soap & Glory a great kisser lip balm in juicy peach or Korres lip butter in Quince, both add a subtle sheen of colour whilst keeping your lips feeling soft and moisturised. I use the Maybelline baby lips lip balms quite sparingly as although they contain shea butter and honey, they also contain petrolatum. I find that Maybelline baby lips
give me plumper lips and a burst of moisture (that lasts around 2 hours) and they are really good for easy application on the go.
Figs & Rouge 100% natural balm tin in Vanilla Cherry and The Body Shop Honeymania lip balm both smell delicious. The tin packaging of the Figs & Rouge balm is so pretty and they are both petrolatum free. I've just moved the honeymania lip balm onto my desk for the colder months as it uses beeswax instead of shea butter which helps moisture to be retained for a longer period of time.
And heres three of my absolute favourites:
Nuxe Rev De Miel: If I could only choose one lip balm to use then this would be it. Dab a small amount of this sweet citrus and honey scented lip balm on your lips before bed and wake up with plump, soft hydrated lips. It contains honey, sweet almond oil, calendula and shea butter that leave your lips looking and feeling deeply moisturised. I've written a full review of Nuxe rev de miel here.
Smith's Rosebud lip salve: I use this lip balm when I'm out during the day if my lips are feeling sore and dry. It soothes and moisturises your lips and has a subtle rose scent, pretty packaging and leaves a glossy sheen. This has a petrolatum base but the rose oils in it are great for healing and moisturising your lips.
EOS Lip Balms: Another great everyday day lip balm, EOS lip balms contains vitamin E, jojoba oil and shea butter and are 95% organic, 100% natural and petrolatum free. These are great to pop in your bag and for easy application and leave my lips feeling soft and smooth.
What are your favourite lip balms?