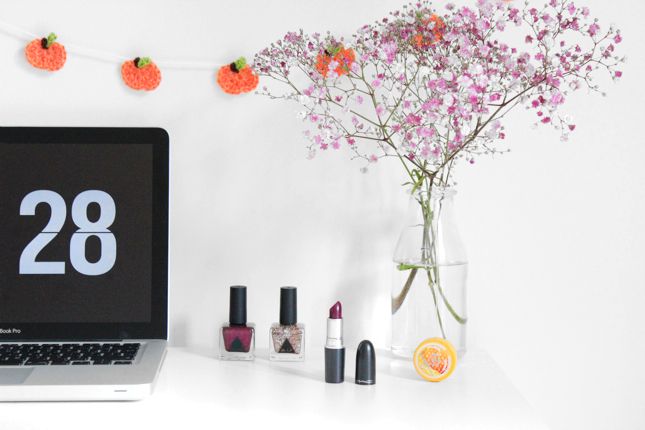 I've added little autumn touches to my desk recently, here's a few things that are currently on my desk!
Pumpkin Garland: I'm definitely not an expert crocheter but with this cute pumpkin crochet tutorial and a little help from google for the stitches I had made 8 little pumpkins. I simply threaded some white wool through them all and then strung it up! I love the way that it looks and it's perfect for autumn and it's getting me pretty excited for halloween!
MAC Rebel lipstick: My favourite
autumn lipstick shade. I could probably wear this every day in autumn as it's so versatile. Apply straight from the bullet for a rich berry lip, dab on and blend with your finger for a pretty stain and then you could also add gloss over the top for a high gloss vampy berry lip.
WIP nail polishes: I love the colours of these nail polishes, the bottles are really pretty and I find these shades so autumnal and inspiring.
The Body shop honeymania lip balm: Throughout Autumn and Winter I am constantly applying lip balm. I love this little honey lip balm as it contains fair trade honey, smells amazing and contains beeswax instead of shea butter. Bee's wax helps to retain moisture in the long term and help to protect your lips. It also smells lovely!
Whats currently on your desk?