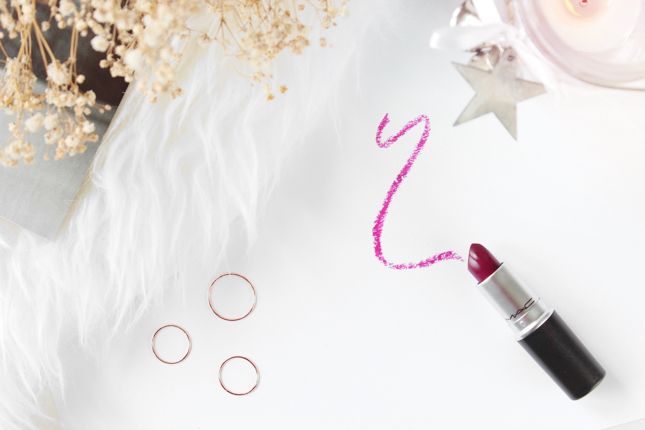 It's been such a warm autumn that I'm glad the days are starting to get getting colder now. MAC Rebel lipstick has been on my lips almost every day, it's the perfect autumn berry lipstick and great for the transition into winter.
I'm really surprised at the lasting power of MAC Rebel, most lipsticks wear off me quite quickly but this lipstick lasts me a good 3-4 hours and then leaves a pretty berry stain on my lips making it such a great lipstick for blustery autumn days spent sipping festive hot chocolates.
I've learnt to apply a good lip balm (usually Nuxe Rev de Miel) to my lips before applying MAC rebel as it can feel quite drying on the lips due to it being such a long lasting formula. It's fast becoming one of my all time favourite lipsticks as it's so versatile - it can be worn straight from the bullet as a vampy berry lip, patted on slightly and blended out with your finger for a more natural hint/berry stain or you can add gloss to make it a high shine bold lip. My favourite way to apply it is to just pat a small amount on the lips and really blend it out with your finger for a pretty berry lip stain.
Have you tried MAC rebel?